Skype, the video chatting platform has a huge active audience. Surprisingly, a big number of its users are unaware that they don't require to download the Skype app on their PC to use it. Skype Web is Skype's web-based client that can be accessed from Google Chrome and Microsoft Edge.
The Skype for web provides an incredible possibility of calling and chatting with your friends on any PC that has Chrome and Edge installed. Of course, Skype is also available for phone, which can also be used on the go, but knowing about the web-client only provides you with an additional option.
In this article, I have discussed how to use Skype for Chrome and Edge using the Skype Web.
Skype For Chrome Extension
Skype for Web has its own extension for Chrome that allows even faster access to the Skype Web services. This extension provides all the features of Skype, like video calling and live chatting. To get the Skype for Chrome extension, click on this link. Now, click on the Add to Chrome option to install it. Remember that you have to open this link using Chrome.

After the extension is installed, open Chrome and click on the Skype extension beside the address bar. Click on the Launch Skype option. Now, enter your login credentials and you will be able to use Skype.
Learn how to unblock Chrome Extensions from here.
Access Skype Web Directly From Chrome
Other than using the Skype extension for Chrome, you can also use the Skype Web services by visiting their website. Click on this link and select the Chat now option. Enter your Microsoft Account's login credentials and click on next. This will open the Skype Web services.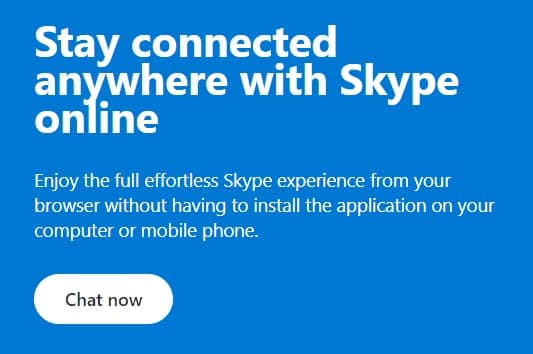 Why Use Skype Web?
Skype web is a great alternative for holding conference calls of important meetings when you are away from home and are unable to access your desktop. Using Skype on phone is also possible, but in some cases, you will prefer the PC experience than the mobile one. Skype for web allows you to make important calls on any computer that has Chrome.
This allows you to walk into a public café and use one of the PCs for your meeting when you aren't near your PC. You are probably curious whether it is safe to use a public PC. Skype provides end to end encryption on their Skype Web to keep your calls secure even on a public PC. I have also discussed a few safety precautions you should follow when using Skype Google Chrome from other PCs to further safeguard your account.
If Skype keeps logging you out, then read this article and learn how to fix it.
Precautions To Follow While Using Skype Web On Other PCs
These are some precautions that you must follow in order to keep your account safe while using Skype Web services on a public PC:
Open Skype Web in an Incognito window for Chrome or Private window for Edge. This way no cookies will be used, and no data will be saved.
When you are signing in Skype Web, uncheck the Keep me signed in
Always log out of your account when using Skype Web after you are done with it.
Wrapping Up
So, there you have it. Now you know how to use Skype for Chrome and Edge through Skype Web. Hopefully, you have found this article helpful. If you have any questions regarding this article, ask in the comment section below.