The Microsoft Rewards is a great initiative program started by Microsoft to provide rewards to the loyal Microsoft users for doing some tasks online using their products and services. The program rewards points that can then be used to redeem Sweepstake entries, gift cards, etc.
To make it easier for users to earn points, Microsoft Rewards app integration with Edge, Bing, and X-box was implemented. In this article, I will give a detailed review of Microsoft Rewards and how to earn coins faster using the app integration.
How Does Microsoft Rewards App Work?
The Microsoft Rewards program primarily rewards users to surf the internet on Bing. You can browse on Bing search engine using any internet browser to get the points. But browsing on Microsoft Edge has some extra benefits.
Also, by completing surveys, tasks, and activities given by Microsoft you can earn rewards. The rewards are points that store up over time. I will get on the points later, first let's see how to participate in the program.
To participate in the Microsoft Rewards app program, you don't need to do anything out of the ordinary. The program is already included in your Microsoft account and simply login in with your account will be enough.
Coming back to the points, you can use the points to redeem many rewards available in the store. What can you redeem with it? If you head to the Redeem section on the Microsoft Rewards page, you will find many Sweepstakes offers like laptops, Xbox One game pass, gift cards, and many other options. In other words, Microsoft Rewards points can help save a lot of money.
How Do You Get Microsoft Points Fast?
Earning Microsoft Rewards points is the way correct to save your money. But it can take so long to store up the coins to buy anything. How do you get Microsoft points fast? There are some methods that you can use to earn Microsoft points faster. However, there is no easy way to earn them faster.
I have mentioned some of the methods that you can use to do it below. None of these options are illegal or cheating, all these methods are provided by Microsoft for users to earn points faster.
1) Complete Your Daily Tasks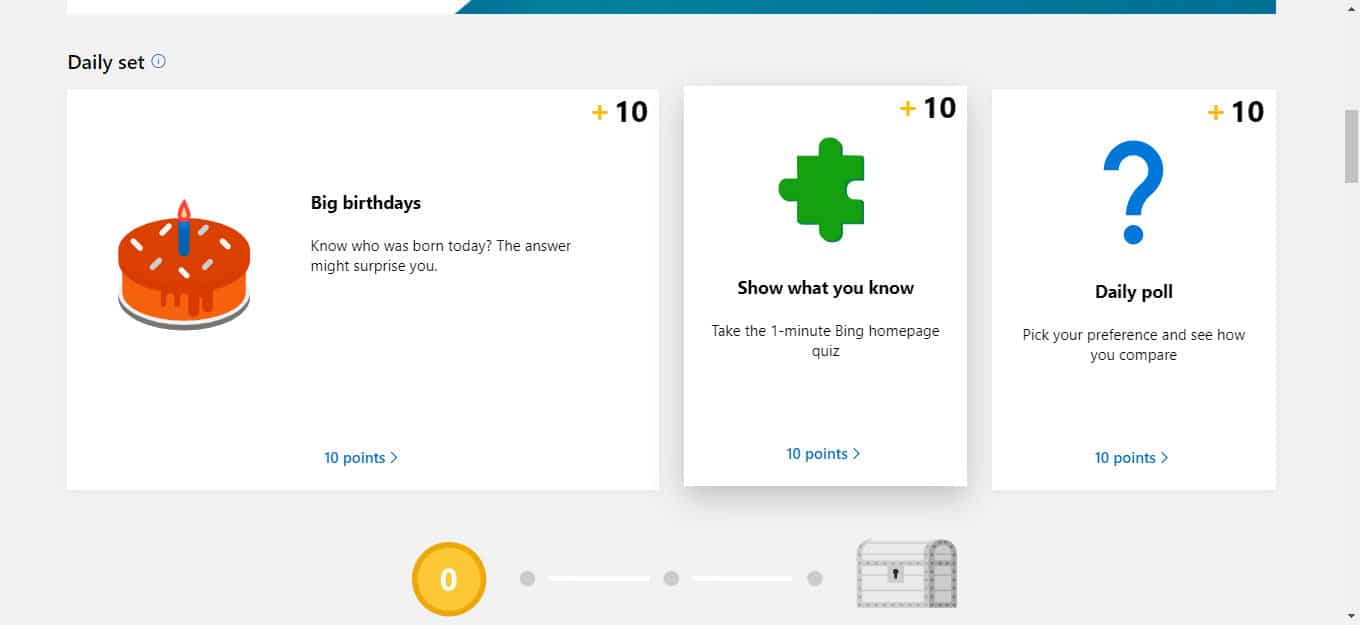 When you open the Microsoft Rewards page. After login in, you will find the daily tasks mentioned there. Completing each of the daily tasks gives 10 points. Finishing them daily can help you earn the points faster.
2) Always Search With Bing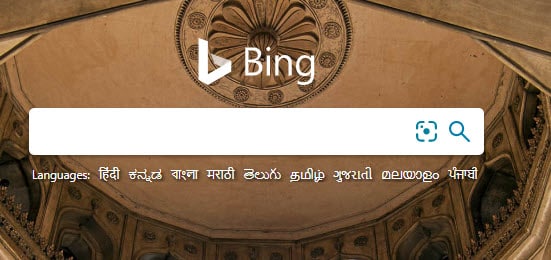 Microsoft's search engine Bing is the primary way to earn Microsoft Reward points. Rather than using the search engine as a way to earn points, you can use it as a default. This will save a lot of time to separately search on Binge for Microsoft Bing reward points and later using other search engines, like Google, to conduct your normal searches.
3) Use Microsoft Edge To Search On Bing
To earn Microsoft Reward points, you can use the Bing search engine on any browser. However, Microsoft gives incentives to use Microsoft Edge over other browsers. Edge is an efficient browser that consumes very little memory usage of your PC. For low-end PC's, using Edge is one of the best ways to prevent browser crashes.
4) Shop From Microsoft Store
If you are looking to make a purchase, try to visit Microsoft store first and check for it. Microsoft also rewards points for purchase made through the Microsoft Store. Hoarding up the points will help you spend less in the future.
5) Level Up To Earn Points Faster
When you log in to Microsoft Rewards, you will notice that you have a "level" shown beside your profile. Every user starts with level 1 and completes certain conditions to level up to 2. To level up from 1 to 2, users have to collect 500 points in a single month.
What is the benefit of leveling up? Level 1 users can only earn rewards for searching 10 times a day with either PC or mobile. This means they can only collect 50 points per day (1 search = 5 points) from searches. For level 2 users, the limit increases to 5 times.
Level 2 users can get rewards for 50 searches on Bing, 30 on PC, and 20 on mobile. This means a level 2 user can accumulate 250 Microsoft Bing reward points in a day from searches alone.
6) Use Both Mobile And PC To Search On Binge Daily (Level 2 Users Only)
Microsoft Rewards has also integrated with Edge, Binge, and other Microsoft Reward apps. This allows users to search on their phones and PC to earn Microsoft reward points faster. If you are a level 2 user, then you get points for searching on your phone and PC separately.
Each day you get 20 rewarding searches on your phone and 30 searches on your PC. If you complete the searches on the phone and PC daily, you will earn 250 points each day.
7) Play Quizzes And Complete Surveys
In the Microsoft Rewards website, you will find many different quizzes to play and surveys to complete. Doing these tasks don't go unrewarded. You get Microsoft Reward points for such tasks. They are not much, but saving them each day will increase your overall points in a month significantly.
8) Utilize The Time-Limited Rewards
Microsoft Rewards also conducts many limited time purchase events. Like in July, they gave an offer for users to spend $40 on anime (link) movies and TV season passes from Microsoft Movies & TV to get 4000 reward points in return. They named this event the Anime Month punch card.
Users that watch anime and were anyway going to buy the pass, got a huge reward in return. Such events are not limited to anime but cover other things also. Keep a lookout for these events to rack up points much faster.
9) Check Out Microsoft's Promotional Material
Microsoft Rewards app also gives points for watching specific articles, blogs, videos, and other content promoted by them. You will find these on the official website of Microsoft Rewards. Like the quizzes and surveys, these do not provide many points. But it all adds up in the end.
10) Use Microsoft Rewards Xbox App
Microsoft Rewards Xbox app is a great way to earn points while playing games. In Xbox one, launch the Microsoft Rewards app and play fun quests, use the special Xbox offers, or simply earn reward points for peeking at certain games to buying others. Also, giving the first look at the new Xbox features and games, you will be incentivized more reward points.
Donate To Charity With Microsoft Reward Points
One of the wholesome parts of using Microsoft Rewards is the ability to donate to charity using the Microsoft points. Microsoft has been very active in donating money for various causes all over the world.
Now, you can be a part of it also. The points you accumulated can be used to donate to various charities through Microsoft. They have also started a new initiative that they will double anything you donate. It is a wholesome project that many would like to participate in it.
Is Microsoft Rewards App Worth It?
Microsoft Rewards program is certainly a great way to earn some quick money or save money on your purchases. Some users may think it too much work and not participate but, in my eyes, the program seems a great initiative with a bright future.
Wrapping Up
So, there you have it. This is a review of the Microsoft Rewards app. The article covers many aspects of Microsoft Rewards, from what it is to how do you get Microsoft points fast. If you have other questions related to this topic, ask them in the comment section.