League of Legends or LoL is a popular MOBA developed by Riot games, which is played all over the world. It has a robust competitive scene and the fact that it runs on even low end PCs, new users are still coming to the game each day.
However, these new users are facing an issue when creating their new account on League of Legends. While choosing their names during login in League of Legends "There was an unexpected error with the login session" appears.
In this article I have discussed how to fix League of Legends unexpected error when choosing name issue.
We have shown a VIDEO walk through at the end of the post for easy solution.
What Causes The League Of Legends Login Error?
There can be various reasons for the league of legends login error. Here are the potential causes that can lead to this issue:
Account suspended: If an old League player faces this issue while logging in, it may mean that his account got suspended.
Name is inappropriate: When this error appears while entering your character name, even if the name is said to be available, it can happen if the name chosen is inappropriate and goes against the policy of Riot.
Server issue: The league's server can be down at that moment, which is leading to the issue you are facing while trying to log in.
Network connectivity issue: If your internet connection is down or slow, then also such errors can appear.
How To Fix The League Of Legends Unexpected Error When Choosing Name?
Now that you know the various causes of this error, it is time to troubleshoot it. Here I have provided the troubleshooting methods you can try to fix this error.
Solution 1: Close League Completely And Restart
One of the first things you can do is completely closing League of Legends and then restarting it. To do that, you will have to close all background processes of League and Riot. Here is how you can do it:
Sign-out of your account from the Riot client or LoL launcher and close it.
Press the Ctrl + Shift + Esc keys to open the Task Manager.
In the Processes tab, locate all the Riot or League processes and right-click on them.
Select the End task option for each of them.
Now, restart the client and enter your sign in details.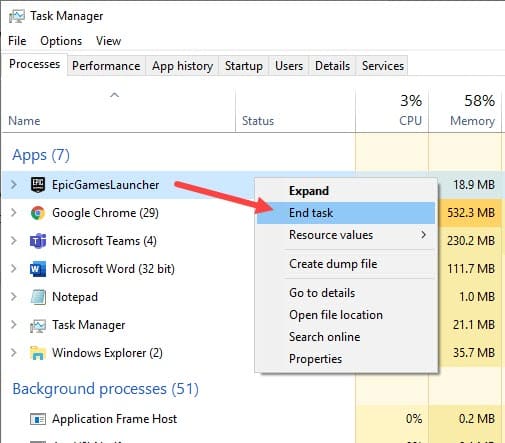 Check if you can sign in on your League account. If still you can't log into League, then try the next solution.
Solution 2: Check Your Internet Connection
Your internet connection can be behind the league of legends there was an unexpected error with the login session issue. Check if your internet connection is up to the speed for logging in. This can be done by running a simple speed test.
Search for Speed Test on Google and select any of the top result. Run the diagnostics mentioned there to evaluate your network connectivity speed. Now, check if the speed you are getting is good or bad.
If you are getting a good internet speed but the issue remains with League, try the next solution. If your internet speed is unusually low, follow the instructions given here.
Solution 3: Check Riot Servers
The next thing you can check is the Riot servers. It is possible that the Riot servers are down, and you are not the only one facing this issue. Checking out Riot's or Leagues social media accounts is a good way to learn whether the servers are down or not. If you find that the servers are down, you cannot do anything other than wait for the servers to go back up.
Solution 4: Change Names
If you are getting the unexpected error when choosing name on League, it is possible that the name you are choosing goes against Riots policy. Even if Riot shows that the name is available, it may still stop the user from using inappropriate names registered on their servers. Try using a normal name and see if the issue remains or not.
Solution 5: Reinstall League
If none of the above solution work, try reinstalling League of Legends. To do it, follow the steps given below:
Press the Windows + R keys.
Type appwiz.cpl and press Enter to open the Programs and Features panel.
Locate League of Legends and any other Riot services among the listed apps.
Right-click on them and select the Uninstall option.
Follow the on-screen instructions to complete the process.
After the uninstallation process is complete, visit League's official website and redownload it.
Install League of Legends again and check if you can sign in.
Solution 6: Contact Riot Support
If reinstalling also doesn't solve this issue, it is possible that your account has been suspended. If you are trying to log in after a long time, it is very much possible that Riot has suspended your account. It can be due to several reasons, from cheating to getting reported for inappropriate names or match behaviors.
In such a situation, all you can do is contact Riot support. Go to their website's help section and explain your issue. Hopefully, someone from their team will reach out to you with a solution.
Wrapping Up
So, there you have it. Now you know what to do when league of legends unexpected error when choosing name issue arises. If you have any other questions regarding this topic, ask them in the comment section below.