Netflix has become a huge streaming platform over recent years. Millions of daily users, consuming the TV shows and movies provided by the platform. Many users spent a big part of their free time watching their favorite shows on Netflix via their Smart TVs.
Recently, users have reported that somehow Netflix gets stuck while loading in smart TVs. This issue has opened on TVs of different models and companies. In this article, I shall discuss what must be done when Netflix stuck on loading screen TV.
Also learn how to watch Netflix videos with VPNs to unlock the entire Netflix library from here.
Why Netflix Stuck On Loading Screen TV?
Netflix getting stuck in the loading screen is something that is not limited to the smart TVs. It is something that happens while playing Netflix using the app or by using the browser.
Many users have reported that Netflix loads to 99 then stops while playing some of the TV shows from the app. Others have reported that Netflix gets stuck at 25 on smart TV.
There can be several different causes of this issue. Here are some of the possible causes:
A slow or unstable internet connection can prevent Netflix from loading the video completely.
It can be a Netflix bug, which will likely get patched in future updates.
Netflix installation files can become corrupted.
The corrupted cache of the browser can also be the cause of this issue.
The device you are using to play Netflix can also be the cause of this issue.
What To Do When Netflix Stuck On Loading Screen?
Here I have discussed some troubleshooting methods that should help you fix this issue. Some solutions should work on all devices, while others are device-specific.
Solution 1: Restart The Device
The first thing you can try when Netflix stuck on loading screen TV is restarting the device. For smart TVs, unplug the power chord after you have turned off the TV. Wait for a minute or so and then re-plug the cable. Start the TV.
After a restart, check if Netflix is still getting stuck on the loading screen. If yes, then try the other solutions.
Solution 2: Check Your Internet Connection
The next thing you must do is check your internet connection. Watching Netflix at high resolution, especially on multiple devices, requires fast internet. If your internet speed doesn't meet that standard, then you will face buffering at the least or it will get stuck while loading. To check your internet speed, visit this website.
After you have checked your internet speed, read this article to check whether it is sufficient to run Netflix at high resolution, and how many devices can share the internet at the same time for it to run properly.
If your internet speed is slower than it should be, then check out this article.
Solution 3: Sign Out And Sign In
Many minor bugs and errors can get fixed after a simple sign out and sign in. When you are signed in to Netflix with multiple devices, it can sometimes cause conflicts within the Netflix servers, even if your membership allows it. Sign out of Netflix from all your devices and sign in from only one of the devices.
After you have done so, check if the loading still gets stuck.
Solution 4: Clear Browser Cache
If you are facing this issue while streaming directly from your browser, then try clearing the browser cache. Corruption in the cache can lead to such issues. To clear the cache on Google Chrome, follow the steps given below:
Open Google Chrome.
Press the Ctrl + Shift + Delete This will open the Clear Browsing Data window.
Click on the Advanced option.
Change the Time Range to All Time.
Only check the Cache box and the Cookies box.
Click on the Clear data option.
Wait for Google Chrome to clear the cache and cookies.
Once done, open Netflix and check if it still gets stuck on the loading screen.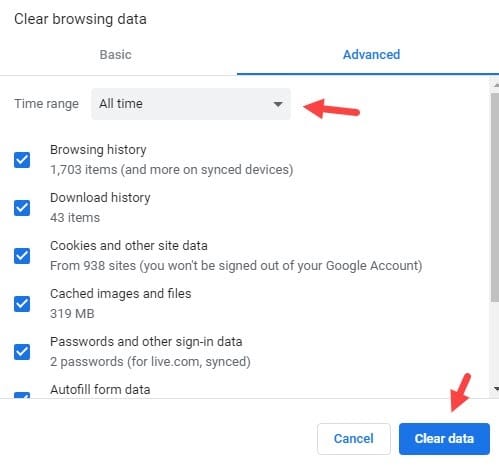 Solution 5: Change The Playback Options To Medium
Multiple users have reported that changing the playback options to medium fixes the loading issue with Netflix. Although it means that you will have to watch lesser quality videos, and it's especially hard as users have to pay extra to watch in HD. But, this is still a working workaround that you can use to consume the daily shows until Netflix patches the issue themselves.
Solution 6: Reinstall Netflix
As a last-ditch try, you can uninstall and reinstall the Netflix app and check whether it fixes the issue or not. To uninstall Netflix in Windows 10, follow the steps given below:
Press the Windows + R keys to open the Run utility.
Type appwiz.cpl and press Enter to open the Programs & Features window.
Locate Netflix and right-click on it.
Select the uninstall option.
Follow the on-screen instructions to complete the process.
After the uninstallation is complete, download Netflix from their official website.
Solution 7: Check If Netflix Servers Are Down
If none of the above solutions could fix this issue, then it is possible that the Netflix servers are down. Visit the Netflix social media sites to check if this is the case or not. If the servers are down, then all you can do is wait.
Also, this can be Netflix internal bug. It can only be patched by Netflix if that's the case.
Wrapping Up
So, there you have it. Now you know what to do when Netflix stuck on loading screen TV. If you have any questions related to this article, ask them in the comment section.