Netflix has become one of the most popular streaming services in the world. Over 150 million+ users are actively using Netflix as their source of entertainment. Netflix allows users to watch their content offline on their phones or PC using the Netflix app.
But, users cannot move these offline contents to a USB drive or play it without using the Netflix app. However, there are ways one can rip movies from Netflix. In this article, I have discussed how to rip movies from Netflix using 3rd party apps.
Also, check out:
How To Download Netflix Movies Without Ripping?
Ripping movies from Netflix is obviously illegal. It is better to watch movies from Netflix legally. Netflix allows users to download movies for viewing offline on their phones and PC. If you are looking for watching Netflix shows offline, that's the recommended way.
Download Netflix Movies To Your Android And IOS Using Netflix App
Downloading movies and other shows from Netflix on your Android and IOS using the Netflix app is a very easy process. Simply download and install the Netflix app from Google Play Store or Apple App store. Next, launch the app and follow the steps given below:
Sign in to your Netflix account. You will need to be subscribed to any of the Netflix plans before you can use the app.
Open the movie or TV show that you want to download.
Tap on the Download icon (arrow pointing downwards to a horizontal line). This will start the download.
Now you can watch the movies offline on your phone. But the downloaded movie will expire and get deleted after a week.
Download From Netflix To PC Using The Netflix App
To download from Netflix to PC legally, you first need to download Netflix to your computer. How can you download Netflix to your computer? It is very easy, simply visit this website and install the app for free on your Windows. This app is only available for Windows for PCs.
After that launch the app and follow the steps given below:
Sign-in to Netflix from the app (subscription to Netflix plans needed).
Open the movie you want to download.
Click on the Download option.
The movie will now be downloaded on your PC.
After you have downloaded the movie, you can watch it offline for a month (30 days). After that, the offline downloaded file will get deleted automatically from the app. Can you download Netflix movies on a laptop? If your laptop is running Windows, then you can follow the above steps to download it. You can also plug in your laptop to a TV using HDMI cable to cast the movie on the TV screen.
How To Rip Movies From Netflix?
The Netflix app provides users the ability to download many movies and episodes to watch offline. These downloaded videos can only be played from the Netflix app. Users can't move them to USB drives or share them with others.
Also, not every movie or show can be downloaded using the Netflix app. The movies that you can download will get deleted automatically after some time. So, you cannot watch them online after the downloaded video has expired.
The only way you can save these movies in your PC without using the Netflix app is by ripping them using 3rd party applications. This, obviously, is illegal. You don't have the license rights of the movie. But if you still want to do it, then I have given some applications below that can easily download from Netflix to PC.
1) FlixGrab+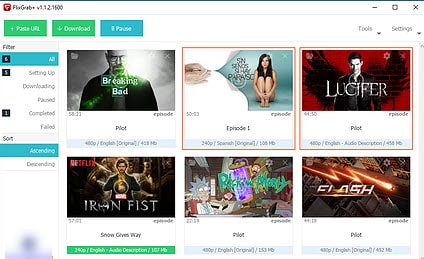 FlixGrab+ is a great Netflix video downloader. The app is very powerful and can easily download any movie or TV show from Netflix, even those that can't be downloaded using Netflix app. FlixGrab+ has a clean and navigable UI. Also, this app can download the movies in HD 1080p and 720p; So, no compromising on the quality. But how to rip movies from Netflix using this app?
After installing the app, you need to give it access to your Netflix account. Otherwise, it won't be able to download. Then simply launch the app, add the URL to the video, and click download. FlixGrab+ requires gives a 14-day free trial after that you need to buy the license to keep using it.
Get FlixGrab+.
2) FlixiCam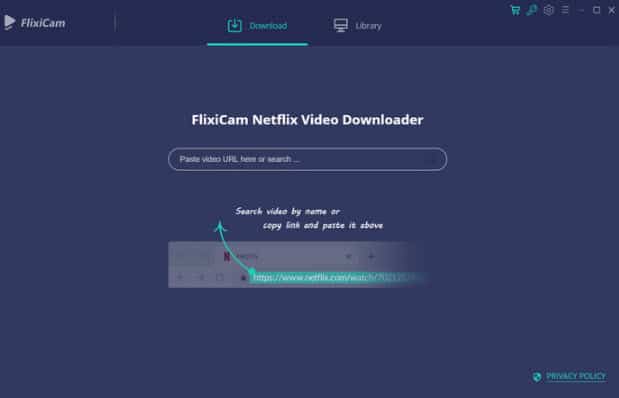 FlixiCam is another great app to rip movies from Netflix. You can manually set the quality of the file for download including 1080p and 720p. After setting the video quality, simply copy the URL of the movie from your Netflix account and paste it in the Netflix HD video downloader app.
After search the URL, you will be asked to sign-in to Netflix in the app. This is needed for the app to download from Netflix. After you have signed in, click on the download icon to start the download.
Get Flixicam.
Wrapping Up
So, there you have it. Now you know how to rip movies from Netflix. I again recommend that you watch the movies on Netflix using the Netflix app and not rip them. We do not support piracy and this article is only for information purposes. If you have any questions related to this article, ask them in the comment section below.